singapore 

real Estate 
 – For The Savvy Investor –
Masterpiece of Perfection
By Cheung Kong Asset Holdings
Equisite Freehold Asset Within 1km To ACS & SCGS
~ 800m To Newton MRT Station (DT11)
Live, Work & Play @ Bugis
A Biophilic Sanctuary In The Heart Of City
Invest in URA Midtown Transformation!
Next Door To Bugis MRT
Home Within A Water Garden Sanctuary
3 Thematic Zones: The Water, The Gardens & The Social
Affordable Luxury!
Next Door To Canberra MRT
Work, Live & Play In The Heart Of CBD
A Sanctuary In The Heart Of Singapore Financial District
Invest in URA CBD Transformation!
Next To Tanjong Pagar MRT
At Brookvale – Freehold
Freehold At Leasehold Price
Invest in URA Holland Plain Transformation!
Amongst Landed Enclave!
An artist's impression of the future Farrer Park, which will preserve the area's sporting heritage. PHOTO: URBAN REDEVELOPMENT AUTHORITY
Prologue
With its signature success in transit oriented and luxurious residential development in Singapore's city centre and heartland, CDL and MCL Land brings you Piccadilly Grand, a modern 'Live, Work, Play' lifestyle concept. Slated as a mixed residential-commercial development, Piccadilly Grand's location at Northumberland Road will be a big draw for home owners and investors, a gateway to the city. Rising above Farrer Park MRT, it comprises residential homes up to 23 storey. It will have retail shops, F&B, and child care services on the first storey. Piccadilly Grand takes its inspiration from the lauded "Picadilly" in London  "City of Westminster"  and "Mayfair". It is set to create waves with a stunning new home inspiration in the Farrer Park precinct.
"The site is also located directly above Farrer Park MRT station and offers a variety of shopping options nearby at City Square Mall and Mustafa Centre, as well as an integrated medical centre and the hotel development Connexion." – MCL Land 
Rejuvenating Landmark & Sustainable Design
Envisioned to rejuvenate the Farrer Park area as an exciting residential and lifestyle destination, residence can look forward to bustling chic cafes, bars, restaurants and lifestyle offerings. Blessed with the bustling city thorough fare, touristy attractions and the cultural heritage, Piccadilly Grand provides the perfect mix of work, live and play. This new elegant residence is set to be a refreshing landmark. It is expected to garner Green Mark awards with focus on sustainability and green.
Piccadilly Grand's unique location, being seamlessly linked to Farrer Park MRT, affords residents a vantage entrance into the rich heritage of the cultural district of the Farrer Park locality. Connectivity to the city is a breeze with the strategic Farrer Park MRT – North-East Line (NEL), with direct stops to Harbourfront in the west and Dhoby Ghaut in the City Centre. In addition, residents will be able to connect to all of the major lines – Circle Line, Downtown Line, North East Line, North-South Line and the East-West Line – via the NEL. Both the residential and retail components of Piccadilly Grand will be able to tap into a huge and affluent tenants.
Piccadilly Grand location allows one to elevate the joy of being a part of a thriving community, when you engage with others in a culture of learning, playing, working, and living together. Residence can look forward to engaging relationships and live your best life in a thoughtfully designed sustainable environment where adaptable spaces, abundant light, and quality materials anticipate your every need. Residence can also expect a green home with generous naturescape bringing balance into concrete walls. You can come home and find comfort in your personal sanctuary of greenery with your family  amidst the hustle and bustle of metropolis Singapore. The surrounding panoramic cityscapes of conserved shop houses and charming distant horizon will be a treat for the privelleg residents.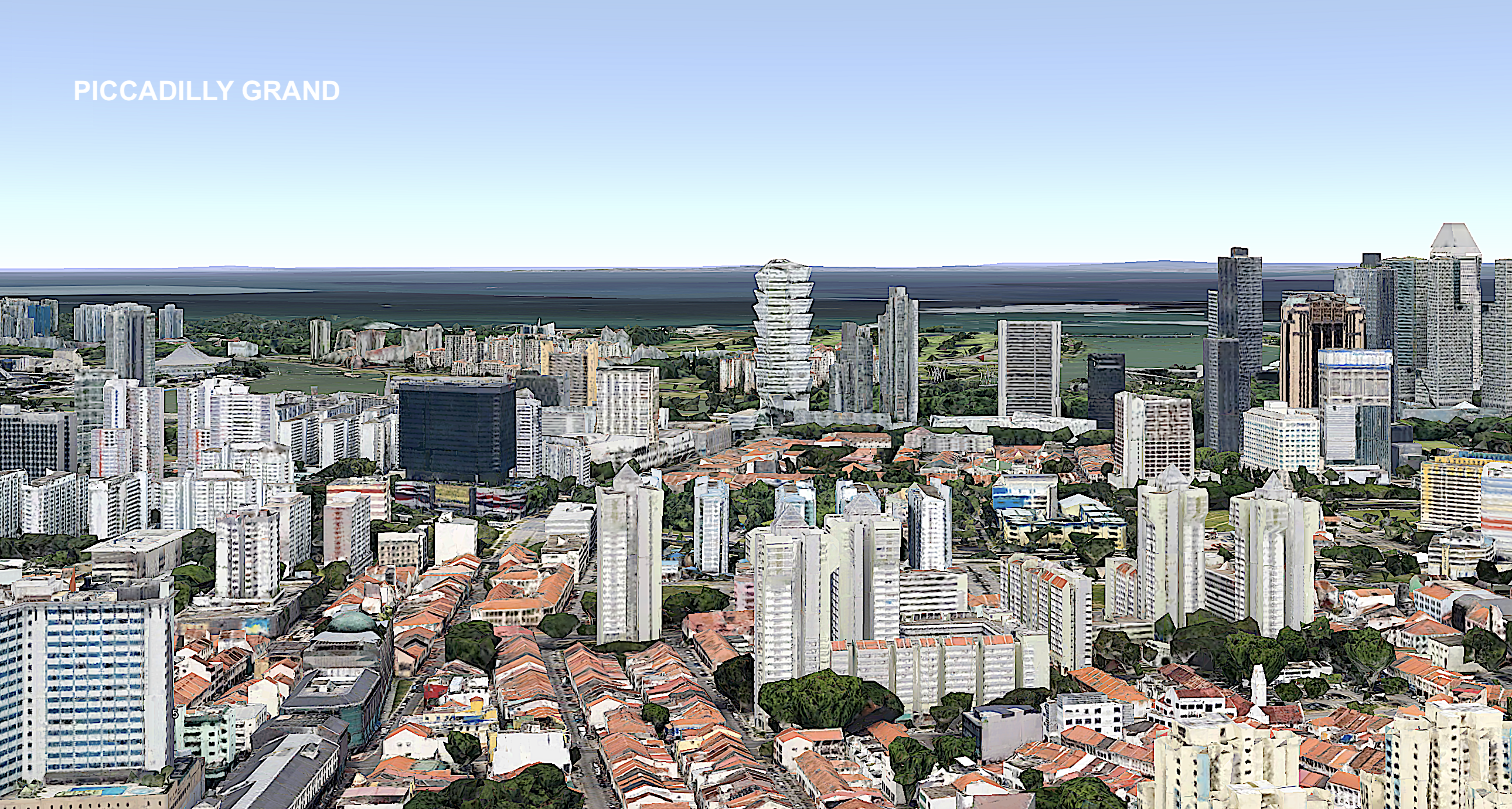 Surrounded By Rich Cultural Heritage
The ~8732.9 sqm Piccadilly Grand plot is close to vast trails of cultural heritage, conservation and historic sites. Residents can participate in a multitude of festivals, events, community activities, social projects, epicurean journeys, art collaborations, smart technology initiatives – a whole suites of buzz, and an unceasing zest of passion. It is a uniquely vibrant precinct with harmonious intercultural spirit on the local and global stage.
History & Heritage
The Northumberland Road Farrer Park precinct in the 1840s saw Europeans of chiefly British descent lived and mingled there – their lives revolving around a racecourse, hence the streets named Racecourse Road, Dunlop Street and Campbell Lane. "Indians started their convergence once cattle trading, betel nut plantations and brick kilns took root. The fortuitous huddle also brought together opportunists of other races and beliefs. Chinese temples, mosques and the House of Tan Teng Niah thus flourished, making Little India a cultural center, vibrant and colourful and IG-worthy!"  – www.littleindia.com.sg
Shopping
Residents can expect everything from mega malls to the creative niche mom-and-pop conserved shop-houses. Locals and tourists love to throng the streets and malls of Farrer Park to shop for anything from fresh produce at Tekka" and jewellery to antiques and electronics. Little India Singapore still retains its distinct charm, apart from its tourist attraction and is one of the most colourful and unique places to shop in Singapore.
Culinary
Northumberland Road precinct is a food haven with its eclectic collection of culinary offerings. With its diverse regional cuisines of South Asia, which many foodies have proclaimed are even better than some of the best in the sub-continent! Besides ethnic Indian restaurants, foodies can embark on an international culinary journey without leaving the precinct. From Mexican tacos to a 60-year old Dim Sum shop to local hawker fare, it's irresistible to make extra pitstops while exploring Farrer Park.
Arts & Culture
Northumberland locality exudes "bohemian-hipster" vibes with distinctive and IG-worthy murals and street art; a sharp contrast to the pristine and sans-graffiti streetscape on the island. Stroll along the enclave's back alleys, and your eyes will be peeled on flamboyantly detailed murals showcasing Singapore's colourful past. Locals and tourists can also embark on an official "Little India Walking Trails" to explore this mazy enclave, of labyrinth of streets, lanes, back alleys, cross junctions and nooks & corners.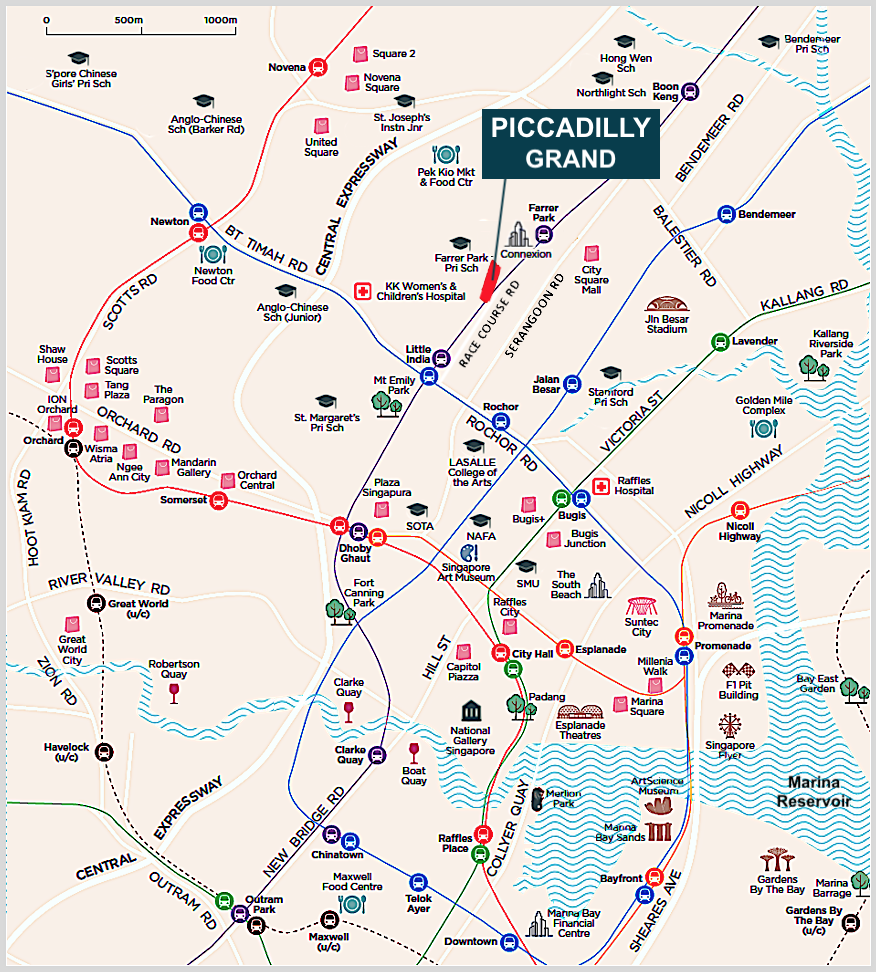 Open For Booking
1 BR+S Fr. $8XXk / 2 BR Fr. $1.0Xm / 3BR Fr. $1.7Xm
Walk To Beauty World MRT.
Eco Sanctuary For Sale
2     2 
S$ 990,000   667sqft
Beautiful designer home. 100% move-in-condition. Rare unblock panoramic view.
ECO 2-Bedroom For Sale
2     2    
S$1,488,000   1055sqft
Rare ground floor unit. Approximately 6 min walk to Tanah Merah MRT. Beautiful Pool View. Resort Style Living. Quality Finish.
2-Storey Inter-Terrace  For Sale
4     2    Freehold
S$2,380,000   1295sqft Land   Approx. 2200sqft Build-up
Freehold landed house for $2.38mln only. Located in Prime Thomson area. Walk to Marymount MRT and Thomson MRT Station. 1km to Catholic High!
Park Infinia  For Rent
2     2    
S$4300/Month  850sqft 
Beautiful city View. Full Condo Facilities! Live in a Park! Walk to Novena MRT and Newton MRT Station.
Leedon Green charms buyers in 2020 to clinch best-selling freehold project in District 10
PUBLISHED MAR 31, 2021
The heart of fine living
PUBLISHED JAN 13, 2020
Freehold Home, Twin Freehold Launches By Singhaiyi Group
PUBLISHED APR 15, 2019
How Sun Park sold en-bloc for $81.09m on third try
PUBLISHED NOV 30, 2017
Sun Rosier Condo Fetches $271m In En-Bloc Sale, 15% Higher Than Asking
PUBLISHED SEP 22, 2017
Contact:
Email: sales@propertypro.com.sg
DISCLAIMER:
While every reasonable care has been taken in preparing this wedsite, neither the Developer nor its agents will be held responsible for any inaccuracies or omissions. Visual representations, models, showflat displays and illustrations, photographs, art renderings and other graphic representations and references are intended to portray only artistic impressions of the development and décor and cannot be regarded as representations of fact. All areas and other measurements are approximate measurements and are subject to final survey. The development is subject to final inspection by the relevant authorities to comply with the current codes of practice. All information, specifications, renderings, visual representations and plans are current at the time of publication and are subject to change as may be required by the Developer and/or the relevant authorities. All statements are believed to be correct but shall not be regarded as statements or representations of fact. All plans and models are not to scale unless expressly stated and are subject to any amendments which are required or approved by the relevant authorities. The Sale and Purchase Agreement shall form the entire agreement between the Developer and the Purchaser and shall supersede all statements, representations or promises made prior to the signing of the Sale and Purchase Agreement and shall in no way be modified by any statements, representations or promises made by the Developer or its agents, which are not embodied in the Sale and Purchase Agreement.
The reader relies on the information provided herein at his/her own risk. Any information you may find in this website may be invalid over time, or inaccurate due to human error. The reader should carefully and independently consider and assess the merits and suitability of the information obtained, the investment objective, risk involved and affordability, before committing to buying any property or any investment.
Direct Property Links:
The Gazania Freehold D19 – Bartley MRT TOP Soon: www.the-gazania-lilium.sg Freehold D20, Lentor Modern At Lentor Central Launching 2022  www.lentormodern.com, Piccadilly Grand At Northumberland Road www.thepiccadillygrand.com.sg Launching 2022, The Lilium, Freehold D19 – Bartley MRT TOP Soon: www.the-gazania-lilium.sg, UOL Homes: www.uolhomes.com Canninghill Piers By Capitaland & CDL 99Y D06 www.canninghillpiers-launch.sg, The Water Gardens 99Y – Canberra MRT www.uol-watergardens.sg, Leedon Green Freehold D10 – Farrer Road MRT www.leedongreen-mcl.com.sg, Midtown Modern 99Y D07 – Bugis MRT www.guocoland-midtownmodern.com , AMO Residence: www.amoresidence-uol.com.sg, One Bernam 99Y D02 – Tanjong Pagar MRT www.01bernam.sg, Ki Residences – Brookvale   www.kiresidences-brookvale.com.sg, Other New Launch: www.wikiproperty.com.sg, New Property Launch: www.propertypro.com.sg, Lentor Modern: www.lentormodern.com, AMO Residence: www.uolhomes.com/amo-residence/,  UOL Property: www.uolhomes.com, Meyer House: www.uolhomes.com/meyer-house/
Direct Property Links:
The Gazania Freehold D19 – Bartley MRT TOP Soon: www.the-gazania-lilium.sg Freehold D20, Lentor Modern At Lentor Central Launching 2022, Piccadilly Grand At Northumberland Road www.thepiccadillygrand.com.sg Launching 2022, www.lentormodern.com, The Lilium, Freehold D19 – Bartley MRT TOP Soon: www.the-gazania-lilium.sg, Canninghill Piers By Capitaland & CDL 99Y D06 ,  AMO Residences, www.canninghillpiers-launch.sg, The Water Gardens 99Y – Canberra MRT www.uol-watergardens.sg, Leedon Green Freehold D10 – Farrer Road MRT www.leedongreen-mcl.com.sg, Midtown Modern 99Y D07 – Bugis MRT www.guocoland-midtownmodern.com , One Bernam 99Y D02 – Tanjong Pagar MRT www.01bernam.sg, Ki Residences – Brookvale Landed Enclave  www.kiresidences-brookvale.com.sg, Other Property New Launch: www.propertypro.com.sg, Property Market & New Launchwww.wikiproperty.com.sg, AMO Residences, AMO UOL, Meyer House, UOL Homes, UOL Residences, UOL AMK Ave 1, UOL, Propertyguru, Singapore Property, Property; AMO Residence, Amo Residence,UOL Ang Mo Kio,